Welcome
I write contemporary romance, nonfiction children's books and I blog about living a healthy lifestyle. While each type of writing I do is unique, they are all very much a part of me as a woman, wife, mother and grandmother. I love to hear from my readers. What you like, don't like, how life is treating you at the moment—the good, the bad, the ugly. Comment on my blog or email me anytime. I hope to hear from you soon.
Coming Soon: Falling in Love With Her
A LEFT AT THE ALTAR, FRIENDS TO LOVERS, BROTHER'S BEST FRIEND, AFRAID TO COMMIT, DESTINED TO BE TOGETHER, ROMANTIC MYSTERY NOT TO BE MISSED!
Ingie
Love, marriage, and a family aren't in the cards for me after my fiancé left me at the altar. I was so certain he loved me, but I couldn't have been more wrong. My mother's words haunt me. "She's an ugly duckling. She'll never attract a man. A husband and family aren't in her future." Instead of dwelling on the past, I focus on running Three Rivers Fly Shop and Boat Repair, the legacy from my father. 
Two years later, Ian Callahan, my brother's best friend and my childhood heartthrob, returns home. Certain he'll never see the swan lurking beneath the ugly duckling, the same as when we were teenagers, I protect my heart by insisting on a friends with benefits relationship. The fact is, I don't need love. I have my work, a persnickety, one-eyed cat, and keeping the Trench Coat Brigade in line—a wacky group of seniors with a penchant for meddling, matchmaking, and mystery-solving.
Ian
After my last relationship crashed and burned, I left my job as an arson investigator and firefighter in Seattle to return home. Ready to settle down, my hometown is the only place I want to put down roots. And the only woman I want to make a life with is Ingie Pulaski. She's smart, sassy, and fearless, but she wants a causal relationship.
When a building is torched and a body is found, I find myself keeping tabs on the Trench Coat Brigade to ensure they stay out of trouble. But there's an added benefit to keeping my eye on the the group—I'm spending a lot more time with Ingie. And I'm making it my mission to show her there's more to our relationship than friends with benefits.
Ingie
I've been looking for love in all the wrong places until I meet up with Ian again. Now I have to conquer my deepest fear—abandonment—or lose the only man who loves me just the way I am.
Get your copy now because men like Ian are one of a kind!
Return to Hope's Crossing
Check out more of the Murphy's Clan series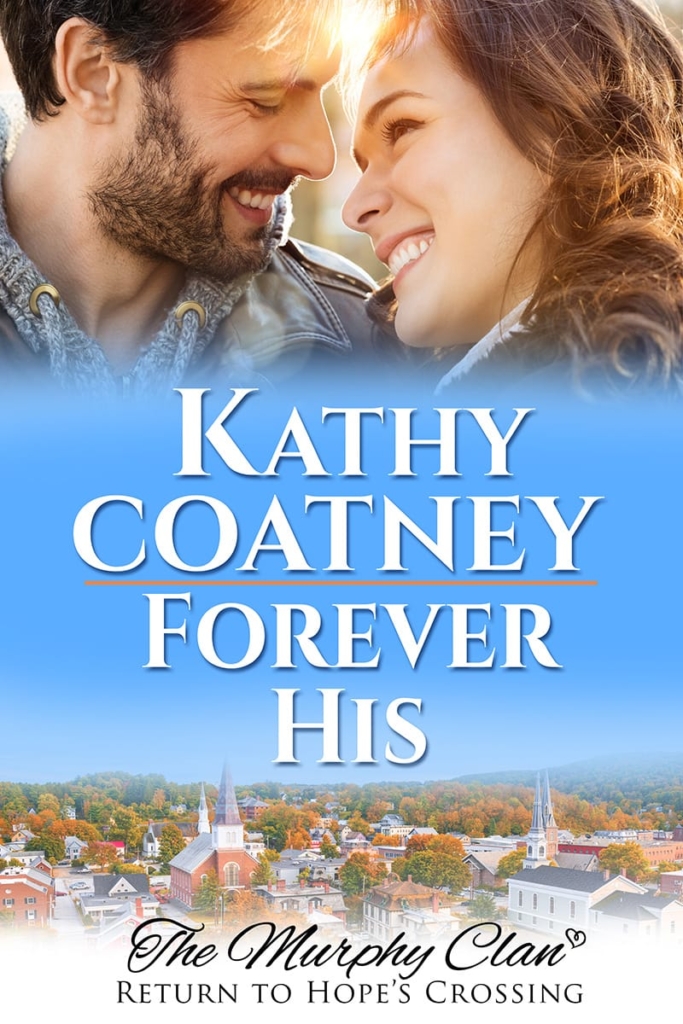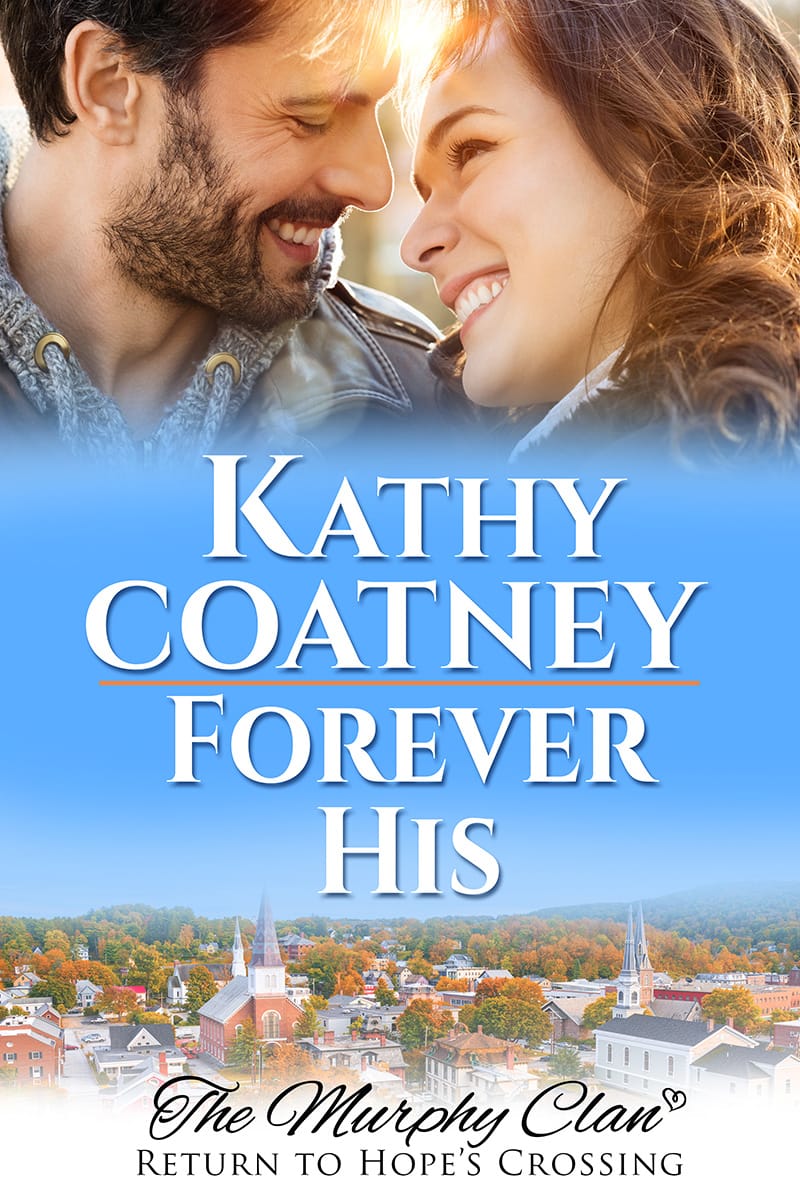 Forever His
HE LEFT SMALL TOWN LIVING TO PURSUE HIS DREAMS OF PROFESSIONAL BASEBALL CAREER. SHE STAYED BEHIND TO FOLLOW HERS. CAN TWO OPPOSITES FIND REDEMPTION AND HEAL THEIR EMOTIONAL SCARS? A POIGNANT JOURNEY OF TWO LOVERS DESTINED TO BE TOGETHER.
"This story takes you on an emotional journey—filled with wounds from the past!" 5 star review
"Emotional, engaging, satisfying, must read!" 5 star review
I'm home and hearth. He's a superstar baseball player.
I've always loved Sam Parker. He was warm sunshine, laughter and passion, and in his arms, I dreamed of white picket fences and happily-ever-afters. But our dreams didn't jive. Sam had aspirations beyond running a farm. I always blamed him for leaving me, but the truth is, I was terrified of being the fish out of water if I followed him. 
Sam's dad, Joe Parker, became my surrogate father in the decade since Sam left Hope's Crossing. Joe's the only family I have, and I just learned he has leukemia. I'll do whatever it takes to save him.
My work is cut out for me because these two men are as hardheaded as a pair of Billy goats. They can't agree on anything and haven't talked since Sam chose baseball over farming. Sam's retired, so there's no reason he can't come home. But getting these two stubborn men to find common ground might be my biggest challenge yet. I've got to save Joe, even if it means facing Sam again after all this time.Get your copy today because when opposites attract sparks fly!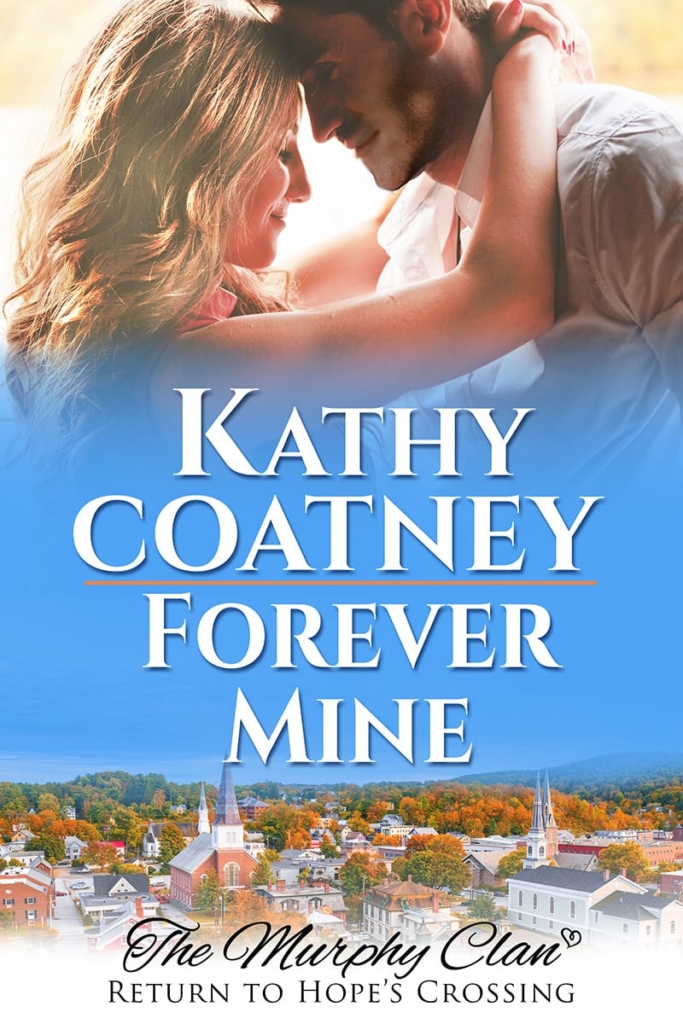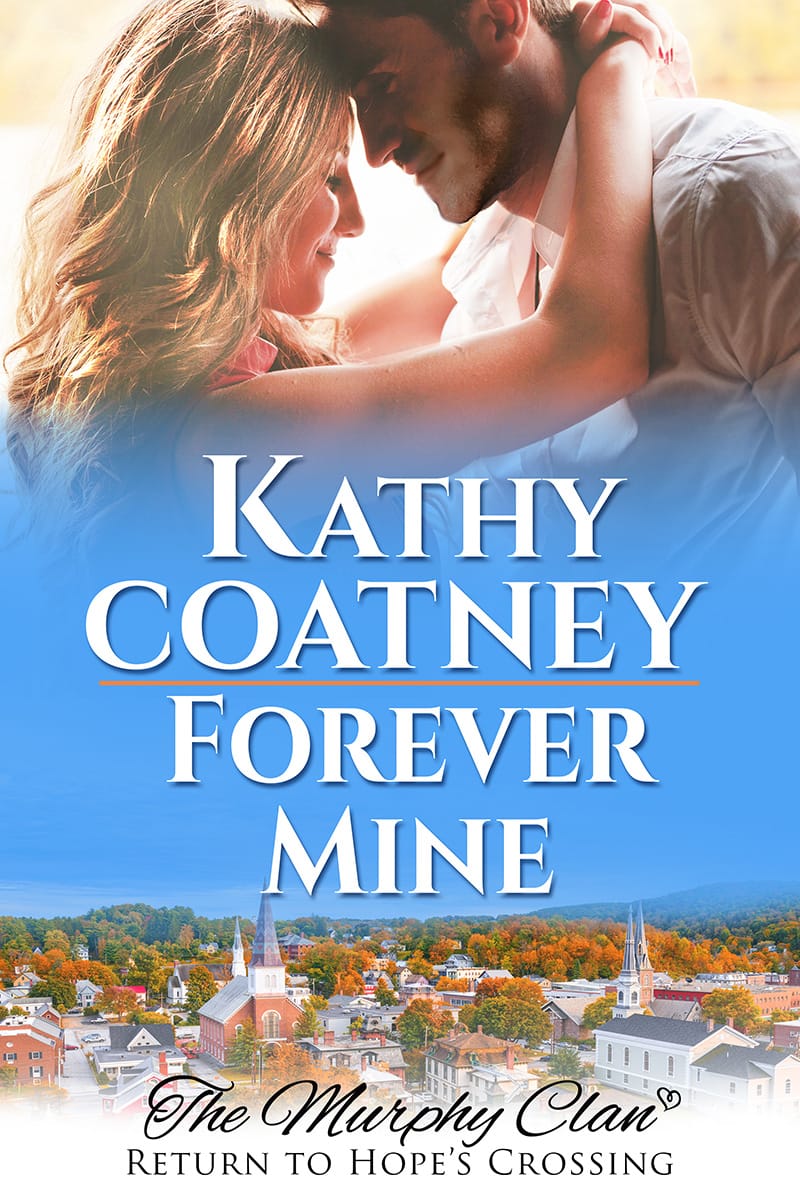 Forever Mine
SHE HADN'T PLANNED ON AN INSTANT FAMILY. HE HADN'T PLANNED ON RETURNING HOME TO TAKE OVER THE LOCAL MEDCIAL PRACTICE. AS THESE SOULMATES WORK TO HEAL THEIR EMOTIONAL SCARS, COULD THIS BE THEIR SECOND CHANCE AT LOVE?
"Honest emotions and realistic triumphs kept me laughing and crying!" 5 star review
"A heartwarming family story!" 5 star review
He's lost everything that gave his life meaning. She's determined to show him that she's his new beginning.
Cassie Cooper's neat, orderly life is turned topsy-turvy when overnight she becomes a single mom to her cousin's three rambunctious boys after their alcoholic father abandons them. Cassie's barely keeping it together between running her beauty salon and caring for her new charges. Can her life get any more insane? In walks Griffin Valentine, her childhood friend, sending Cassie into another tailspin. Old feelings stir, but Cassie has no time for a relationship, never mind falling in love. 
Griffin walked away from a lucrative practice as an orthopedic surgeon after his two-year-old son died in a car accident and his wife divorced him. Two years later, he returns to Hope's Crossing to take over a small medical practice and throws himself into caring for his patients. As much as he's drawn to Cassie and her readymade family, he's a broken man. The past looms over him, threatening to destroy the new life he's building. Can these two lost loves overcome their emotional baggage and get a second chance at love?
Get your copy today because a second chance at love doesn't come along every day.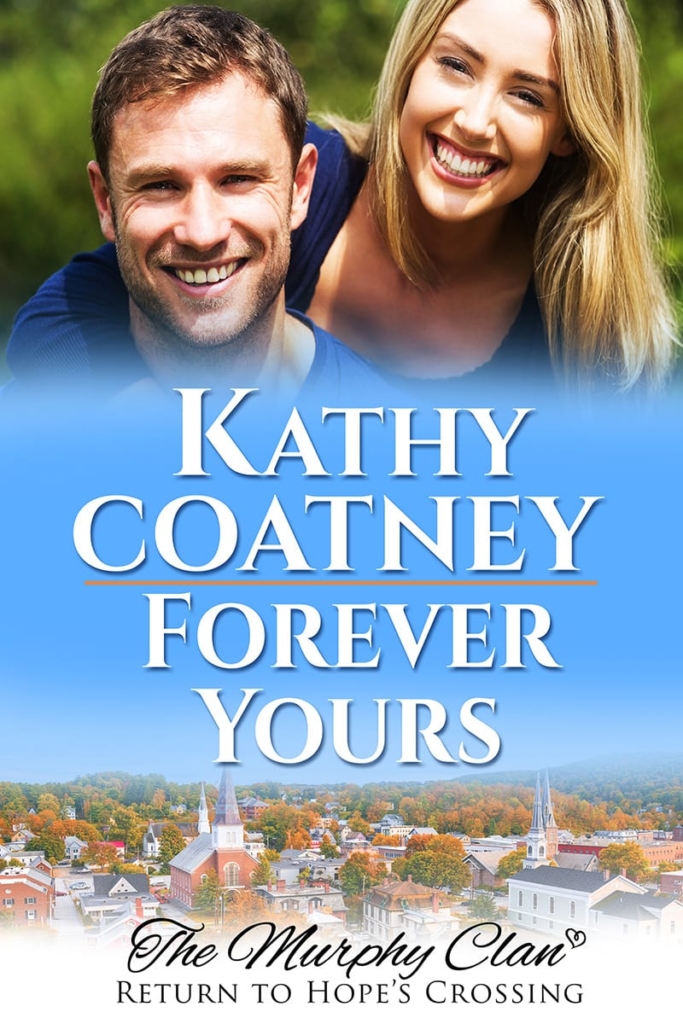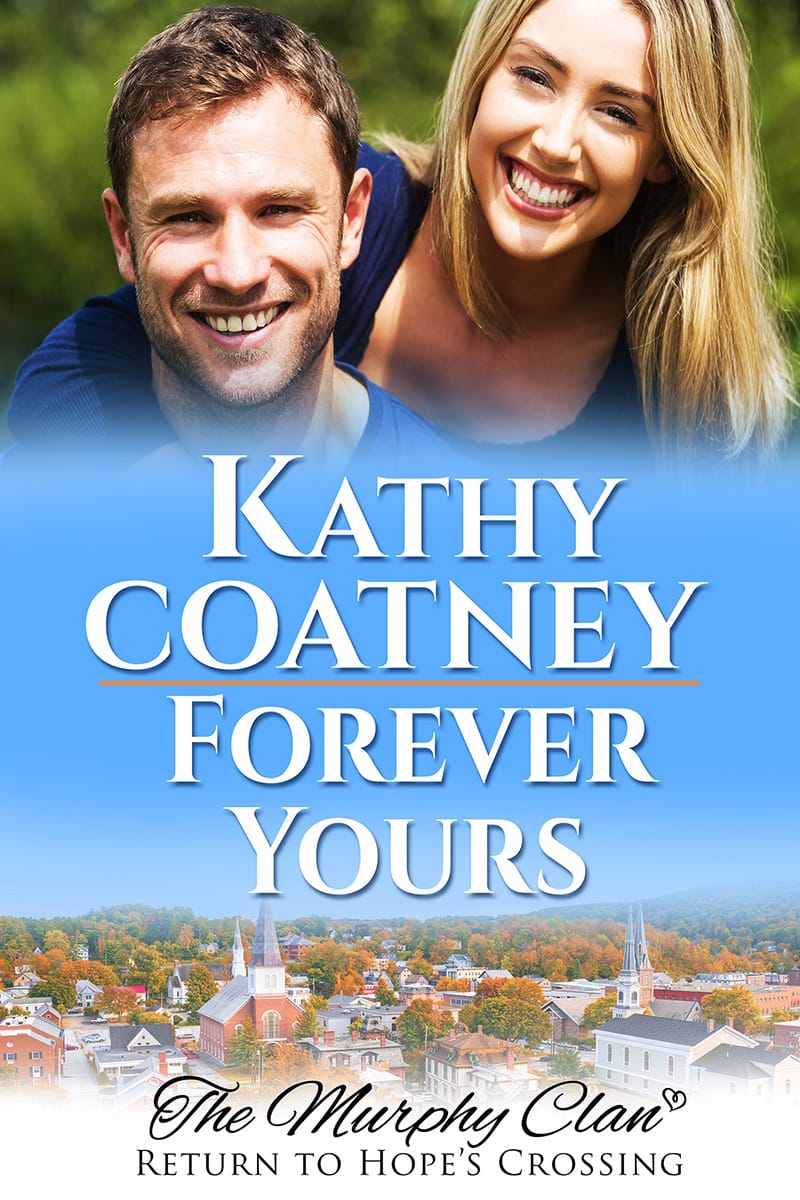 Forever Yours
THE BAD BOY OF BASEBALL RETURNS HOME LOOKING FOR A FRESH START. SHE RETURNS HOME TO RIGHT A WRONG. THERE'S STILL A SPARK BETWEEN THEM, BUT CAN THEY MAKE A LONG-DISTANCE RELATIONSHIP WORK? HE LEFT HER ONCE, BUT HE WON'T LOSE HER A SECOND TIME.
"Another terrific book in the Return To Hope's Crossing series" 5 star review
"The town itself adds such charm to this engaging story!" 5 star review
Ben had the world by the tail. I'm the love he left behind.
After our parents died in a car accident, my sisters and I lived with Uncle Cornelius, a stuffy Brit with a heart as big as the state of Indiana. Cornelius owned the local movie theater in Hope's Crossing, and I loved every inch of the place almost as much as I secretly loved Ben Valentine. But Ben was out of my league, never seeing me as anything but his high school tutor. When he left for college, he took my heart with him.
Four years later, with my business degree in hand, I wanted to work with Uncle Cornelius. But nothing went as planned, and I struck out on my own in Paradise Falls where I bought a drive-in theater I could run my way. My life is on track until Uncle Cornelius has a heart attack. With regret burning deep inside, I rush home to set things right with him. It's all I can think about, until I discover the bad boy of baseball is living next door. Then all I see is heartbreak in my future because there's nothing to keep me in Hope's Crossing—nothing except the man of my dreams.
Get your copy today because your first love is the one you never forget.
This is book three in The Murphy Clan—Return to Hope's Crossing series. If you want to read more of the Murphy Clan, check out The Murphy Clan—Falling in Love series.