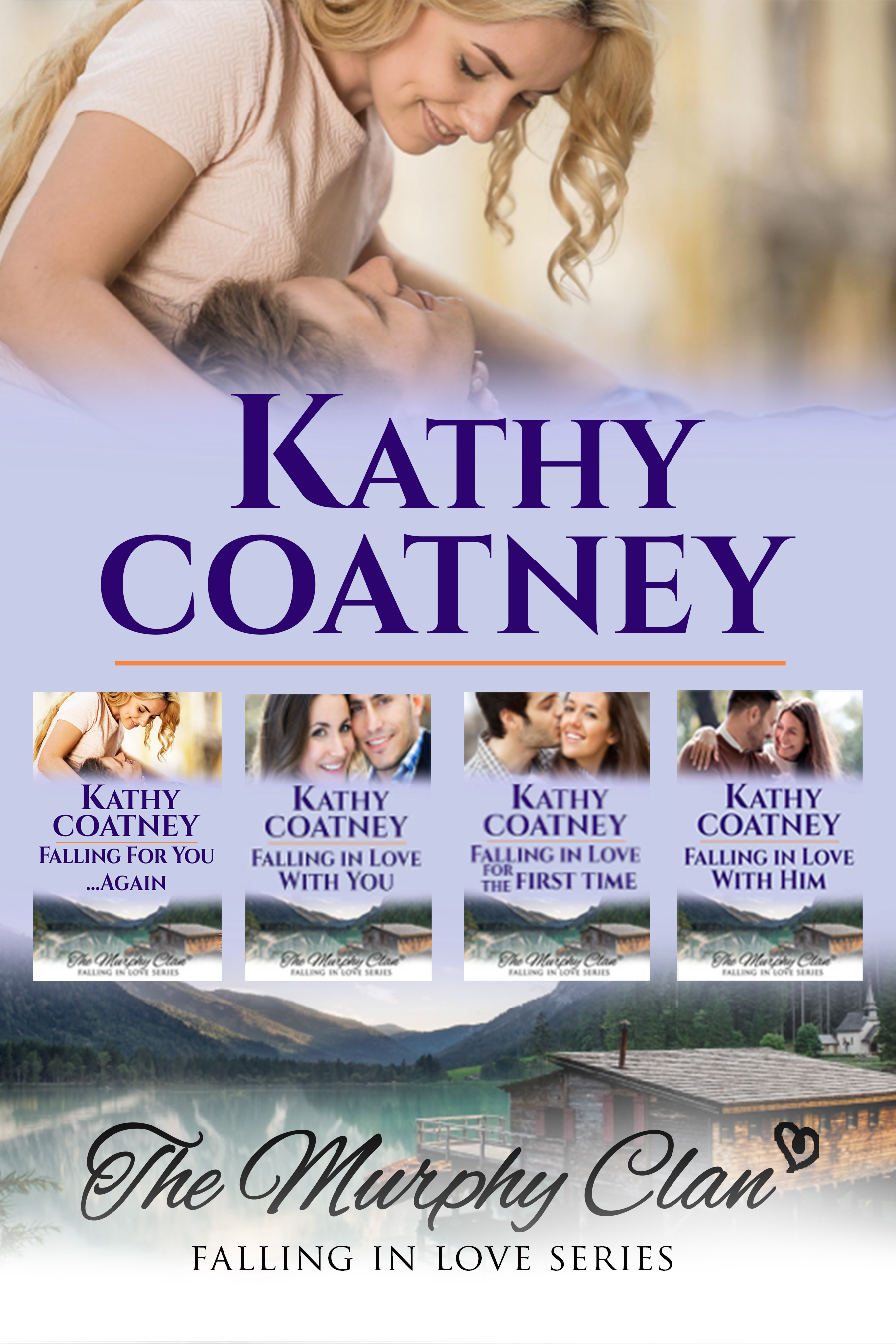 Falling For You Again
A GRIEF-STRICKEN COUPLE WORKING TO HEAL THE EMOTIONAL SCARS OF LOSING THEIR DAUGHTER WHILE TRYING TO SAVE THEIR SONS. AN EMOTIONALLY RAW STORY ABOUT SOULMATES SEARCHING FOR A SECOND CHANCE AT LOVE.

"I absolutely love this book and I know I'll read it again!" 5-Star Review
"A compelling read giving detailed, realistic characters that you grow to identify with and love!" 5-Star Review
Falling In Love With You
THE TIMING JUST WASN'T RIGHT FOR THESE STAR-CROSSED LOVERS, BUT NOW THEY HAVE A SECOND CHANCE. THIS RIVOTING FRIENDS TO LOVERS ROMANCE SHOWS IT'S NEVER TOO LATE TO TRY AGAIN. OR IS IT?
"Kathy Coatney writes beautifully, and her stories are a balm for the soul!" 5-Star Review
"It takes your heart on a journey that will open your mind to all sorts of possibilities!" 5-Star Review
Falling In Love For The First Time
IT WAS LOVE AT FIRST SIGHT, BUT LIFE TOOK DANIEL AND MAGGIE DOWN SEPARATE PATHS, BRIEFLY BRINGING THEM BACK TOGETHER ONLY TO BE TORN APART ONCE MORE. CAN THEY FIND THEIR WAY BACK TO EACH OTHER?
"Kathy Coatney does an excellent job of writing stories that go a little deeper than the average romance, which makes the romance that much more rewarding!" 5-Star Review
"Kathy Coatney is quickly becoming one of my favorite authors!" 5-Star Review
Falling in Love With Him
A SIGH-WORTHY ROMANTIC MYSTERY ABOUT A COP AND A REPORTER LOOKING FOR REDEMPTION AND ALONG THE WAY FALL IN LOVE.
"An awesome page-turner that left me breathless!!!" 5-Star Review
Get the box set now because strong, sexy men like this don't come around every day!